Advance Your Career Through Online Education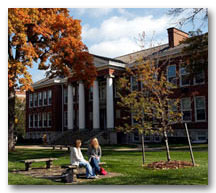 Online Degree Programs Focused on the Corrections Field
As a professional working in the field of corrections you know that it takes certain skills to be successful. Mastering written and oral communication, decision-making and leadership skills, and counseling related interpersonal skills will help you have an impact on the people with whom you work; and help you advance in your career.
Eastern Kentucky University's Department of Correctional & Juvenile Justice Studies now offers several advanced degree or continuing education opportunities that are dedicated to your field.
Increase your professional skills and knowledge needed to move up the career ladder.
The topics covered in the program are directly related to the skill sets and knowledge you need to function effectively in the corrections profession. You will develop a greater understanding of:
Effective intervention strategies
Strategies for reducing offender risk factors
Case management practices
Counseling techniques
Evidence-based practices
Special populations (Sex Offenders, Substance Abusers, Mentally Ill)
Classification systems